Earth Day 2018
Unitarian Universalists observe Earth Day (April 22) by honoring the interdependent web of life through worship services and events that educate, foster connection with the Earth, and create change in our communities and larger world. Earth Day is a time to celebrate the accomplishments of the year and recommit to climate and environmental justice.
This year, UU Ministry for Earth has chosen the theme of Justice for #Each Generation for Earth Day and Climate Justice Month.
Justice for #EachGeneration

Justice for #EachGeneration is a campaign led by the United Church of Christ and other co-sponsors that calls for more than a thousand sermons in solidarity with the courageous youth of Juliana vs. USA who are suing the U.S. government for its role in causing climate change. UUMFE has set a goal of supporting one hundred "Justice for #EachGeneration" services at UU congregations for Earth Day 2018. Click the button below for more about the campaign and UUMFE's new resources for Earth Day and Climate Justice Month!
DOWNLOAD THE RESOURCE PACKET
A few of the things you will find in the the resource packet: Justice for #EachGeneration graphics, orders of service, a sermon from Rev. Susan Ritchie, resources for community engagement and action, and a Youth vs Gov mini-play for multi-generational Earth Day Sunday services.
UUMFE is also partnering with the UUs for Social Justice (UUSJ) for a "Write Here! Write Now!" letter writing advocacy campaign. Organize a letter writing event with your congregation appealing to members of Congress and then express mail — or scan and email — the letters to UUSJ in Washington, D.C. UUSJ must receive the letters by Monday, May 7th at 11 AM Eastern. UUSJ Capitol Hill Advocacy Corps volunteers will hand deliver the letters to congresspeople on Tuesday, May 8th. Find out more & sign up!
---
Get on the Map!
UU Ministry for Earth's goal is to have at least one hundred UU sermons expressing solidarity with the Juliana v. USA youth for Earth Day Sunday. Will your congregation be one of them?
Register your congregation's Earth Day events for 2018, and get on the map!
Within a day of registering, your event will appear on the Google map above, and you'll be entered in UUMFE's raffle drawing for a gift certificate to the UUA Bookstore. Check out what other congregations are doing by clicking on the map (green markers are worship services and red markers are other events).
REGISTER YOUR EVENT
---
Host a Screening of The Reluctant Radical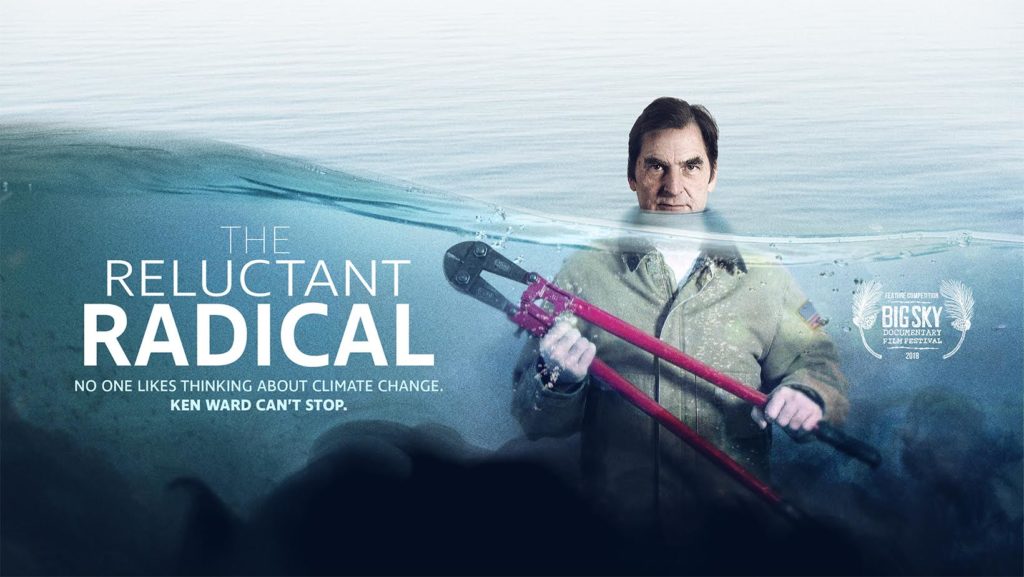 THE RELUCTANT RADICAL features activist Ken Ward as he confronts his fears and puts himself in the direct path of the fossil fuel industry to combat climate change. Ken breaks the law as a last resort and with great trepidation, to fulfill what he sees as his personal obligation to future generations.
UU Ministry for Earth is excited to help bring this important film to our community.  UU congregations receive a 20% DISCOUNT on community screening fees! Use coupon code "UU_20%_OFF" when you order a screening kit.
---
Congregational Eco-Heroes
Since 2008, UUMFE has encouraged UU congregations to take Earth Day as an opportunity to honor those in their own community who have carried the torch of Earth ministry and/or environmental justice. You can honor a congregational eco-hero by submitting their name when you register your congregation's Earth Day events. UUMFE offers award certificates for download, or you can celebrate and honor your eco-hero in your own way!
LEARN MORE
---
Climate Justice Month

Many UU congregations celebrate Earth Day with an entire month of reflection, action, and new commitments to climate and environmental justice. "Climate Justice Month" can be celebrated for the month of April, or for the 30 days between World Water Day (March 22) and Earth Day (April 22).
The three-year Commit2Respond campaign, of which UU Ministry for Earth was a founding partner, provided materials each year for Climate Justice Month that continue to be helpful to UUs and other people of faith and conscience in ongoing Earth Day and Climate Justice Month observances.