Overview
UU Ministry for Earth has been offering Earth Sunday resources since its inception and Climate Justice Month resources from 2014 – 2018. This year, UU Ministry for Earth is going big for its 30th year in existence with a 2-month program from March 22 – May 22nd: Spring for Change: a Season of Sacred Activism.

Prepare to
Spring for Change
by making sure you are on UUMFE's
mailing list
so that you will receive all of the resources and messages throughout the season. This page will be updated regularly! Stay-tuned.
Worship Resources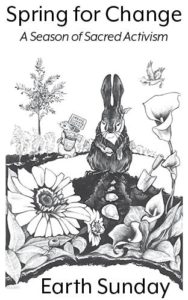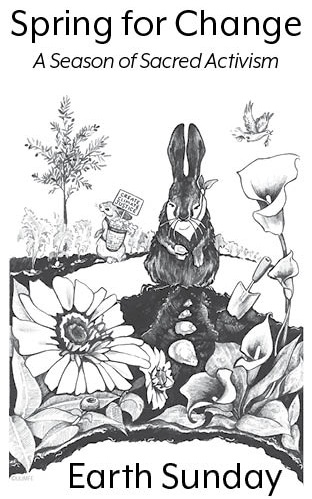 Use this beautiful Order of Service (OOS) for your Earth Day Sunday worship service, or any appropriate worship service during the Spring for Change Season of Sacred Activism.
Just download the file, fill in the boxes at the bottom of the OOS cover with the information for your congregation's service, and print. There are two versions, one entitled "Earth Sunday" and the second version with the title section blank for you to fill in.
The illustration on the cover by artist Anna Welch depicts two rabbits planting seeds and harvesting plants in a Spring garden. One rabbit has a sign reading "Create Climate Justice". In the front right is a calla lily plant, a flower associated with faith and Easter, as well as with the Year of the Pig in the Chinese Zodiac. In the front left is a calendula flower, an edible and deeply medicinal plant that symbolizes healing and transformation.
In the sky is a dove with an olive sprig in its beak that was taken from the olive tree in the background.
UU Ministry for Earth is sustained by individuals like you and congregations like yours. Help grow and sustain the UU Ministry for Earth by using this OOS half-sheet insert on Earth Sunday or for an appropriate worship service during the Spring for Change Season of Sacred Activism.
Download the file
(print double-sided)
---
Activation Resources
Throughout the month of April, collect letters at your congregation to be delivered by hand to the offices of US Senators on Capitol Hill by the Unitarian Universalists for Social Justice Advocacy Corps, calling for a quick implementation of policies to adequately address the climate crisis. The full resources for this campaign will be released shortly.
To begin:
Download and look through the Write Here! Write Now! Toolkit, if you are unfamiliar
SIGN UP to participate or request to be contacted for more information
---