Get Your Copy of "Justice on Earth" – this year's UUA Common Read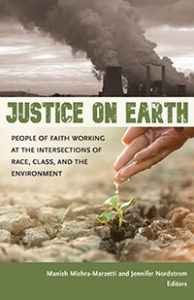 The Unitarian Universalist Assocation has chosen Justice on Earth: People of Faith Working at the Intersections of Race, Class, and the Environment as the 2018 Common Read.
A UUA study guide for the book will be available October 1, and webinars with the book's authors, plus supplementary materials for using the book in small group ministry circles, are being offered for the Environmental Justice Practitioners Network 2018-2019 season.
In this important book, fourteen UU ministers and lay leaders examine  how systems of social oppression such as racism and classism are linked to ecological devastation, affecting marginalized communities in disproportionate ways. Justice on Earth brings these problems to light and encourages us to work strategically at these intersections.
The book also explores how spiritual practices, congregational organizing, and progressive theology can inform faith-based justice work in the twenty-first century. Revealing new approaches and opportunities for more holistic, accountable, and connected justice efforts. Each essay is accompanied by suggested ways for further learning and action.
Get your copy of the book today
Recieve a complimentary copy of Justice on Earth as a "Thank you" for supporting UU Ministry for Earth  by giving $100 or more through one-time or regular small-monthly donations:
Donate
You can also purchase paperback or e-book copies from the UUA inSpirit Bookstore.
More information & discussion about the book
Called to the Intersections of Justice
In this panel discussion recorded at the 2018 UUA General Assembly, Justice on Earth's co-editors and some of its authors reflect on how to follow the lead of communities directly affected by environmental racism, stay spiritually resilient in the face of oppression, and connect the dots between issues.
Church of the Larger Fellowship Author Discussion
The Church of the Larger Fellowship has a fascinating conversation with Justice on Earth co-editors Manish Mishra-Marzetti and Jennifer Nordstrom on their weekly web show, The VUU.
We need an intersectional approach to justice-making
Adaptation of the book with Manish Mishra-Marzetti from the winter issue of UU World