Tomorrow, July 23, 2015, our network coordinator Aly Tharp will join roughly a dozen other activists of faith for an interreligious teach-in in Hyde Park, New York, sponsored by Religions for Peace USA, Focolare Center for Education in Dialogue, and ECOONE. The conference will focus on interfaith peace-building and climate action.
Aly looks forward to the conversations and relationships that will form throughout attending, and hopes the UU Young Adults for Climate Justice will grow as an organization through building multi-faith partnerships and strategies over the years. The Grounded and Resilient Organizers Workshop (GROW: Climate Justice), hosted by the UU College of Social Justice in Chicago next month, is another exciting upcoming opportunity for this work.
Here is a short piece Aly wrote for the Religions for Peace blog of teach-in participants, about how her UU faith impacts her vision for climate justice: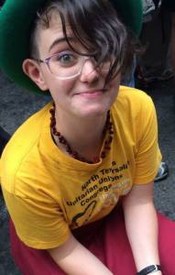 Why I Stand for Climate Justice: A Unitarian Universalist Perspective
Hello! My name is Aly Tharp and I am from the suburbs of Dallas, Texas. I serve as a part-time network coordinator for a small group of committed and spiritually-grounded activists called the Unitarian Universalist Young Adults for Climate Justice.